Christine at Abbey of the Arts is hosting a
photo party
this week.
Photo Party Theme: Listen with the Ear of Your Heart
ears listen, eyes look,
hearing, seeing below ground
to the sacred source
I'm a little late to the party, but here is my entry: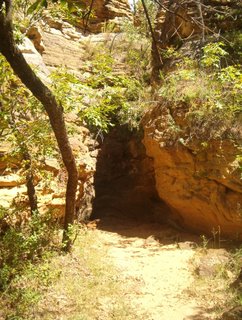 It's actually just a slot in the rocks, but it looks like a cave entrance, perhaps not too different from the cave where Jesus was buried on that Friday long ago. For three days, there in the ground lay the sacred source of all life.
Labels: photo party