Sometime during the wintder of 1997/98 I took a daytrip through the small towns of southwest Kansas with an old college friend. We arrived in Greensburg at 5:05 pm. Greensburg is the site of the world's largest hand-dug well. At 32 feet in diameter, the mouth of the well was larger in square feet than the apartment where I was living at the time.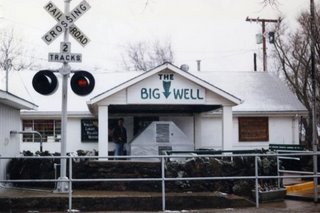 Next to the well was a gift shop, which also housed Greensburg's other claim to fame: the largest pallasite meteorite ever found. The gift shop closed at 5:00. We were five minutes late. Still, we were able to look through the cover of the well to see what a massive undertaking it must have been.
Not as massive, though, as the tornado that ripped through the town Friday night. Nine people are dead and dozens more injured, and rescue workers expect to find even more bodies in the rubble. 90 to 95 percent of the town's buildings have been destroyed. It's the most devastating tornado this state has seen in probably eight years. I'm too stunned to write much more.
The American Red Cross is
accepting donations
and welcoming volunteers. I'll post more links as I find other opportunities to give.
Labels: charity, current events